Wanda Ventham is a British actress noted for having acted out, amongst other characters, the role of Colonel Virginia Lake of SHADO in UFO: The Series.
Ms. Ventham has been married at least twice. Her son by her second marriage, to Timothy Carlton(Timothy Carlton Congdon Cumberbatch), is actor Benedict Cumberbatch.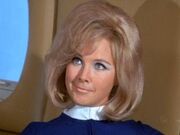 Ad blocker interference detected!
Wikia is a free-to-use site that makes money from advertising. We have a modified experience for viewers using ad blockers

Wikia is not accessible if you've made further modifications. Remove the custom ad blocker rule(s) and the page will load as expected.