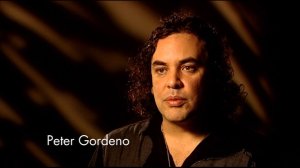 Peter Gordeno Jr. is a British singer-songwriter who, as an actor in UFO: The Series, acted out the character of S.H.A.D.O. Lieutenant Peter Carlin, who joined the organisation after witnessing a UFO attack.
Outside his involvement in the programme, Gordeno, the son of the choreographer and dancer Peter Gordeno Sr., worked as a live and studio-session musician, touring with the musical team Depeche Mode; his specialty is keyboards, and he took over for former member Alan Wilder in that role as well as providing occasional backing vocals.
Some of the above information is incorrect, this link has the correct info. http://www.independent.co.uk/news/obituaries/peter-gordeno-dancer-and-singer-who-had-a-starring-role-in-the-scifi-series-ufo-975463.html
Ad blocker interference detected!
Wikia is a free-to-use site that makes money from advertising. We have a modified experience for viewers using ad blockers

Wikia is not accessible if you've made further modifications. Remove the custom ad blocker rule(s) and the page will load as expected.